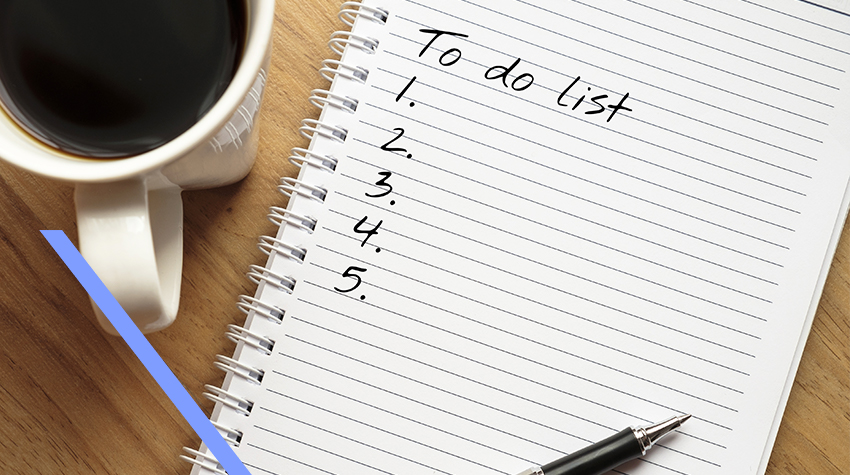 The Perfect Start
It's Monday morning, the weekend is over and your alarm going off is a rather unwanted sound. Most people's immediate thoughts are "5 more minutes!" or "Is it really Monday already?" Working in a hectic B2B marketing agency, my initial thought is "What challenge will face me today?"
No two days are ever the same, but a "typical" start for me would usually involve catching up with colleagues – making sure everyone is ok and ready for the day ahead, and making my first fresh brewed cuppa.
Back at my desk, I dive into any emails that came in after "closing time" last week and double check my meeting schedule, then I jump onto our HR management system to look at my day and what I can expect from the week ahead.
Most of my working days vary and involve everything from booking necessary travel and managing our HR system, to building and maintaining relationships with contractors and suppliers, organising key meetings & events, and efficiently sustaining the day to day running of our offices.
As a global company with at least 3 offices that often need managing around the clock, I prioritise the day's tasks and to-do lists according to time zones and based on my own deadlines. This ensures our Head Office, London and the US office all run smoothly!
One of my favourite aspects of my role is the people. For most of my colleagues, their key players are our clients, but my clients are my colleagues.
Teamwork Makes The Dream Work
I have the privilege of working with some of the brightest, kindest and wittiest people! From a quick chat while we're brewing our third cup of coffee, to the deep and insightful conversations that happen at our local during happy hour; every day I learn something new and interesting about the people I work with. (I could take this opportunity to embarrass a few folks, but I won't, as I'm sure they have their stories of me too!)
The first Friday of every month the entire team (including those in the other offices and our remote workers) get together for a few hours of knowledge sharing—something we call the "SCL Showcase". We take the time to share what we've been doing across the business with some top-notch content and awesome client case studies. I really love our showcase, it's a fantastic time for the whole company to get together and show off their work.
Last month we put our marketing brains on pause and celebrated one of our colleagues who has been with the company for over 30 years!  We don't do things by halves, so we dedicated an entire day to her! This included some questionable 80's style fancy dress, a delicious BBQ inspired by her Greek heritage and a 'This Is Your Life' themed presentation (complete with 'The Big Red Book' and some cake, obviously!)
Events such as SCL Showcase or special celebrations make such a difference! The team really comes together and collaborates, and you notice how the company, moral and relationships improve.
Cool, Calm And Collected
Speaking of wellbeing, today sees the start of our 'Feel Good Fortnight' across the whole company! We're putting on a bunch of health and wellbeing activities which staff can take full advantage of. From promoting walking meetings, knowledge sharing through 'lunch 'n' learns' as well as opportunities to try taster sessions of Bootcamp, Yoga and Mindfulness, or enjoying a cheeky seated massage! We're putting our wellbeing to the front of our minds as we head into a traditionally busy quarter!
As you can imagine, by the time I get to the end of the workday, I'm ready to enjoy my evening! But the great thing about my position, is having the opportunity to wear so many different 'hats' and keep multiple plates spinning.
Agency life constantly keeps me on my toes, and challenges me to come up with creative solutions, but at the end of each day, I get to go home with a sense of satisfaction, knowing it's been a job well done!
For more from our Feel Good Fortnight, as well as behind the scenes at Ledger Bennett, don't forget to follow us on Instagram, Twitter and LinkedIn
Other blogs that may interest you